Veterinary Medical Imaging Equipment
If your medical practice specializes in treating animals instead of humans, you may be wondering what the differences in the medical imaging equipment that you need may be. Of course, it will depend on what services you provide and for what kind of animals you serve. Before you begin shopping around for the right machines for your practice, there are a few things you'll want to consider. Here, we will discuss a few things to think about when making the decision about what medical imaging equipment to outfit your veterinary clinic with.
Consider Your Patients
Before you consider what specific equipment you will purchase, you'll first want to consider the patients that you currently serve and the patients that you would like to serve. If you see mostly pet gerbils, iguanas, and cats, many veterinary practices that care for domestic pets will invest in a mobile C-arm because it is smaller than a standard x-ray machine and can easily be moved. However, if you see (or hope to see) the larger breeds such as dogs, horses, or livestock, you may want to consider larger veterinary medical imaging equipment. If you see even large animals, such as marine aquatic or zoo animals, you may even consider larger industrial x-ray and MRI machines that can accommodate larger heights and weights. Your patient base will dictate the equipment you need.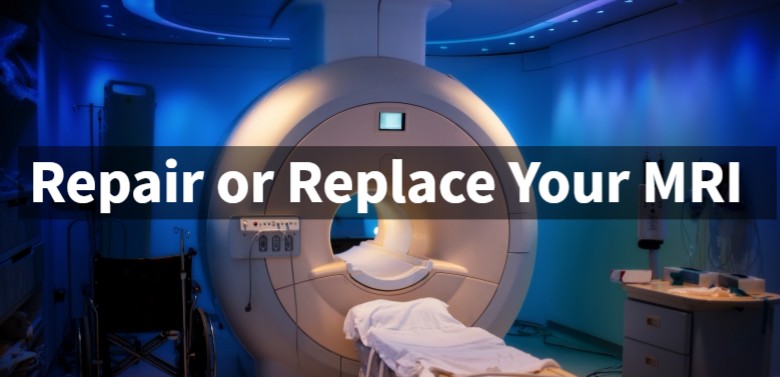 Consider the Services You Provide
While we have all the equipment you need to run a full-scale animal hospital, if you operate a small veterinary clinic that specializes in routine check-ups, vaccines, spay/ neutering, and grooming, you may not need all the large equipment and bells and whistles. However, if you are your town's emergency animal hospital, you will want to make sure that you have all of the medical imaging equipment necessary to diagnose and treat your animal patients, big and small.
Consider Animal Safety
When it comes to getting diagnostic images, the task can be a little more tricky with animals than with humans because the animal doesn't understand your explanation. Obtaining images should not put an animal in danger or cause pain. Some effective solutions for animal imaging include the flat panel detector, which is a plain cassette that can be maneuvered and placed where needed underneath the animal without having to lay the animal on a special bed. Horizontal radiography equipment allows animals to stand for their imaging, rather than being laid down.
Additionally, safety in regards to medical imaging includes exposure to radiation and maintaining exposure standards. The standards are no different for animals than it is for humans. Thus, it is important to make sure that any medical imaging equipment that you purchase has strict safety standards and is up to code. Even refurbished equipment should be inspected for safety. Under no circumstances should equipment that is no longer safe for human use be purchased at a discount price to be used on animals. Safety and technology should benefit humans and animals safely.
Consider Your Clinic
Aside from all of the details of the medical imaging machines themselves, you'll want to consider your clinic. Medical imaging equipment often requires a great deal of space, that cannot double as storage or working space. Be sure you have the room you need before purchasing a large machine! You'll also want to consider your clinic's budget, keeping in mind the ongoing maintenance costs and any accessories that will increase the operating costs — film, software systems. To help reduce costs, you can consider purchasing a used or refurbished machine at discount prices.
If you operate a veterinary clinic and are looking at the medical imaging options to outfit your clinic with, trust the experience of the experts at Bravo Imaging. We have all of the machines that you need to provide the best service to your patients — x-ray, MRI, CT, ultrasound — no matter the size or breed! We also install and repair anything that we sell or anything that you purchase elsewhere. For all of your medical imaging equipment needs in Miami, contact Bravo Imaging today!